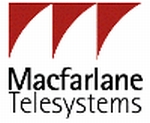 Oxford City Council has announced it has improved the service it provides to local citizens by adopting a new customer contact strategy that puts technology right at the heart of its organisation.

The Council's technology-focused customer contact strategy, adopted by Councillors in late 2003 in order to improve access to Council services and meet eGovernment targets, has already led to the creation of a dedicated customer contact centre. More interactive self-service features on the Council's web site, as well as customer contact trials with kiosk, mobile messaging and other advanced technologies are also being implemented.
Established in May 2004, the customer contact centre is based on Macfarlane CallPlus technology and is staffed today by 28 multi-skilled Customer Service Officers. The Officers operate between the centre and the Council's three one-stop shops, and handle a range of services from Revenues and Benefits, to Council Tax and other General Customer Service Queries. The centre has already had a major impact on the quality ofservice delivered to local citizens:
The customer contact centre handles around 3000 calls per week and is on course to handle over 150,000 calls during its first year of operation.
Oxford's Macfarlane CallPlus solution delivers Automatic Call Distribution with intelligent routing, Call Recording, Management Information Statistics, and Interactive Voice Response facilities. It is the second CallPlus system used by the Council – the other has been used in Oxford Council's Housing Repairs organisation since 2001.
"We were very pleased with the features and performance of the previous Macfarlane system" explains Ian Barrett, Business Manager, Customer Services, Oxford City Council "and the introduction of CallPlus into our new customer centre has certainly helped us improve the service we provide to local citizens ".
In the near future, Oxford City Council plans to integrate a CRM system with CallPlus to provide Customer Service Officers with a broader range of information at their fingertips while handling calls. Today, Officers only have online access to selected systems (such as the Housing Benefit and Council Tax system, and the Council's Document Imaging system). Oxford City Council intends to pilot CRM in the Revenue and Benefits section of Customer Services. Upon completion of this work, a more detailed road map for rolling out CRM across the Council will be developed.
The Council is also keen to push ahead with a number of Internet and mobile phone-based customer service initiatives. A high percentage of citizens in the City and its surrounding areas have Internet access and use advanced mobile phone features; consequently, demand for Council services that support SMS and web self-service are considerably higher than national averages.
'Oxford City Council has ambitious plans to improve its customer contact services by adopting a highly integrated approach to delivering multi channel services' said William Gray, Managing Director of Macfarlane Telesystems. 'We are delighted to be working with them to bring this vision to life' .
2004-11-04
Em Foco – Produto