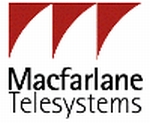 South Lakeland District Council reports that a new Customer Relationship Management (CRM) initiative has contributed to a 60% rise in customer satisfaction levels in the nine months to March 2005. A new customer contact centre, set up in June 2004, and based on Macfarlane's CallPlus technology has been key to this success.

The South Lakeland contact centre, located in Kendal, handles approx 9000 incoming citizen enquiries a month relating to fourteen key environmental services including recycling, road scene, refuse collection and bulk collections. Five customer service advisors work in the centre today although there are plans to double this number as new services are introduced in coming months.
The Macfarlane CallPlus system provides Automatic Call Distribution services with intelligent routing for the South Lakeland centre, as well as Call Recording, Management Information Statistics, Voice Mail and Interactive Voice Response facilities. All these services are delivered from a single, standards-based, technology platform.
From March 2005, the Macfarlane system has also been used to handle incoming customer service calls for neighbouring Barrow District Council on a 'virtual' basis. The system recognises which incoming calls are from citizens in the Barrow area and which from South Lakeland by the phone numbers dialled, and directs callers to skilled advisors in the appropriate customer service departments instantly and seamlessly.
This CRM co-operation between the two councils is part of a broader drive to create more integrated customer contact services on a Cumbria-wide basis. Plans for an 'Information Hub', for example, where information collected from citizen contacts made at any local authority within Cumbria is fed into a central county-wide information system, are already under way and scheduled for completion in May 2005.
South Lakeland District Council has a 10 agent system, with Barrow currently having five contact centre advisors and operates fourteen different customer contact services. However, these are fourteen different services to those being handled in South Lakeland. In the spirit of county-wide co-operation, the plan is that the two councils learn from each others' experiences, and bring on the fourteen services their partners have been operating in their next respective development phases.
The new contact centre has brought massive benefits for both citizens and customer service advisors according to Brian Benson, Head of ICT at South Lakeland Council. 'Prior to the introduction of the Macfarlane system our advisors simply operated on a 'hunt group' off our main telephone switch. This meant we couldn't tell customers how long they were likely to wait before being answered – and often they'd be sent back to the switchboard operator, losing their place in call queues altogether. It created angry customers and made our advisors' jobs twice as difficult .'
'The CallPlus system has had an immediate and dramatic effect. Now, customers know where they are in call queues, far fewer calls are lost and customer satisfaction is rising. The system also produces excellent reports – telling us how many calls we're taking and how long they're lasting, as well as giving detailed information on advisor performance .'
South Lakeland sees a highly integrated future in terms of how it works with other District Councils in Cumbria as well as how it creates end-to-end business solutions. New benefit, planning, electronic payment and other IT systems are already under way, for example, and there are detailed plans to integrate these with front office CRM and contact centre resources. According to Benson, 'CRM plays an equally important role in both front and back office, measuring the quality of our individual and team performances from the moment a job query is raised to the moment it is finished. CRM isn't just about customers – it's about how the back office performs as well .'
Mobile technology also plays a significant role in the Council's plans as Mike Jones, Director of Customer Services at South Lakeland explains: 'In the future, we want to introduce mobile technology, for example, giving PDAs to refuse collectors so that if a bin is missed it can still be dealt with when they are in the area. We also plan to have self-service terminals and assisted access in our Tourist Information Centres giving visitors access to information and allowing our rural residents greater access without the need to come into Kendal, thereby overcoming geographical and social exclusion. This will be available seven days a week .'
'South Lakeland District Council must be applauded for the way it has developed and successfully implemented an advanced, integrated and multi-channel approach to customer contact' said Paul Skinner, Sales Director, Macfarlane Telesystems .
Source: Macfarlane Telesystems
2005-04-21
Notícias – Press-Releases