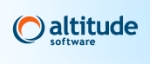 Altitude Software, an independent contact centre solutions vendor, announced that Altitude uCI has been selected by SITEL, a global provider of outsourced customer support services, for its global customer interaction management (CIM) needs. The two companies also are expanding their partnership to pursue market opportunities globally.

"At SITEL we are committed to providing our clients with the best quality global service," stated Niall Andrews, SITEL Corporation, Senior Vice President, European Technical Services Director. "Altitude's reliable, proven contact centre solution will support our continued growth and further enhance our quality
customer service."
Altitude Software has already successfully deployed its CIM solution at several SITEL contact centre sites throughout the world including Belgium, the Netherlands, Mexico, and Sweden. "As a worldwide leader in CRM outsourcing services with millions of customer interactions processed each day, we needed a contact centre solution, and a provider, that could support us globally," commented Doug Pontious, Global CTO of SITEL Corporation.
"Altitude Software has a clear understanding of our demanding contact centre outsourcing business and
the challenges that we regularly face. Our decision to expand our partnership globally reflects the
level of confidence we have in their teams." Gastão Taveira, Altitude Software's CEO, stressed the importance of the agreement: 'Our award-winning contact centre software solution is continuing to experience strong market adoption worldwide, particularly in the fast-growing outsourcing market segment. We are delighted that a global company like SITEL is selecting Altitude uCI to boost contact centre performance and service excellence throughout its worldwide operations.'
2006-09-26
Em Foco – Produto