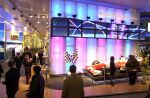 "Thematically focused and user-friendly". This is how the organisation of CeBIT 2003 defines the line-up of special presentations at the event. The thematic range includes vertical market software, e-government, security technology, personnel recruitment and IT reselling. Each individual display will be accomplished by its own programme of lectures and discussions. CeBIT 2003 will run from 12-19 Mar. in Hannover, Germany.
MAIN DISPLAY CATEGORIES: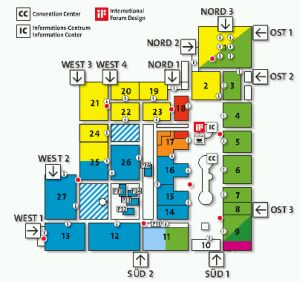 IT Equipment & Systems (Halls 1, 2, 19-25)
The big corporate groups will dominate the activities in hall 1 including digital photography as well. In hall 2, the main topics will consist of mobile computing, PDAs, notebooks and PCs. In halls 19 to 21 and 25, the spotlight is on peripherals, i.e. monitors, external storage devices and storage solutions, input peripherals, speakers, printers and scanners.
Halls 22 and 24 will feature the internal PC components: processors, motherboards and random access memories, casings, power supply and cables. In hall 23 the main focus will lay on computer entertainment with sound and graphic cards, game consoles and the relevant technical equipment (hardware only). A total of 1,344 exhibitors will occupy 122,665 sq. metres of net display space.
Software & Services (Halls 1, 3-9, 11)
The Software & Services showcase in hall 6 will – for the first time ever at the 2003 edition of CeBIT – also include displays formerly shown under the IT Engineering category.
According to the organisation, "this reflects the increasing importance of linking administrative and manufacturing processes, with software as the link. This is where buzzwords like PLM (product lifecycle management) and digital engineering rule, and where technical and business applications are joined together to form a unified, process-driven whole".
HR – Human Resources / Automatic Data Capture (Hall 9)
The new Human Resources display category will pool the latest developments on information and knowledge management. In the voice processing sector, scientists have now developed a machine which, hooked up between two telephones, will translate the conversation into English, German, Japanese or Chinese—virtually in real time. Other themes will include mobile production data acquisition, barcode and radio data transmission systems or intelligent labelling systems.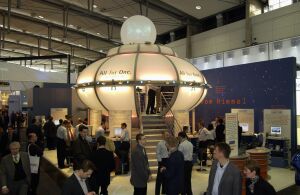 Telecommunications & Networks (Halls 12-16, 25-27, Pavilions 32-36, Open-air site) Carriers and the providers of voice and data services will both be out in force. They will show how fixed networks, mobile and radio networks are being fused into one communications entity through the internet. Visitors can get a compact overview of the state of the art, including terminal devices, telecommunications equipment, call centre solutions, CTI, video conferencing, LAN, WAN and Virtual Private Networks (VPNs) Network equipment manufacturers are predominantly in halls 27 and 13.
IT Security & Card Technology (Hall 17)
CeBIT will be putting the spotlight on IT Security & Card Technology in hall 17, centrally located within the exhibition complex. On around 10,300 sq. metres of display space, 290 exhibiting companies will be on hand to show off their latest product innovations including digital signatures, multifunctional cards, 'electronic vault'-based printing systems as well as on solutions for securing database, no-touch access via chip cards and biometrics.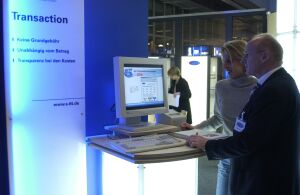 Banking Technology and Financial Services (Hall 17, 18)
Exhibitors will have some 11,000 sq. metres of floor space at their disposal to show the latest on banking technology: some of it in cyberspace, such as electronic banking, mobile banking and internet brokerage, but some of it also very down to earth, as new, machines and equipment for automated banking and branch offices.
The second trend can be summed up under 'individual banking', a concept based on advising the customer and building up a relationship of mutual trust. This new trend does not involve a standard banking product, but rather interpersonal interaction and advice for financing needs, investments, long-term investment strategies and succession arrangements.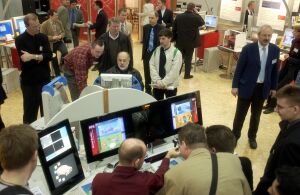 Future parc (Hall 11)
Conceived as a platform for representatives of research institutions, universities and newly started companies to showcase their solutions to the world, the event is an extension of Research and Technology Transfer – which has always been an important theme area at CeBIT.
Not that this is a researchers only event. Hall 11 will also feature the 'future market' forum, a place where start-ups and spin-offs can network with prospective investors, consultants and legal advisers.
SPECIAL DISPLAY CATEGORIES:
World of Solutions (Hall 6)
World of Solutions in hall 6 will focus on standard as well as vertical-market software solutions ranging from ASP (Application Service Providing) to Content Management and Supply Chain Management. Located at the heart of the World of Solutions, the so-called "Plaza" will provide exhibitors with a platform for holding brief lectures about their products and systems. A major highlight will be a competition organized by exhibitors. Entrants stand the chance of winning a weekend trip to the Formula One Grand Prix in Monaco.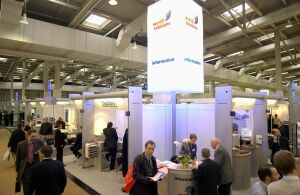 Internet Park (Hall 6)
The Internet Park in Hall 6 reflects the entire spectrum of potential Internet applications – from hotel reservation systems to shop systems and mail-order software. The focus will also be on e-business and m-business software offerings. The Internet Park will also boast its own "Plaza" with a special programme of lectures and seminars.
HRCC – Human Resource Competence Center (Hall 9)
A new feature at CeBIT 2003 is the "Human Resource Competence Center" in Hall 9. This lecture forum, which augments the new CeBIT display category "Human Resources", will spotlight IT-aided human resources management. The contributors include academics, representatives of government departments, management consultants and software suppliers. The goal is to explore new ideas and approaches designed to optimise the deployment of human resources in companies and organisations.
CeBIT Job & Career Market (Hall 9)
'Job & Career Market' pavilion launched by Deutsche Messe AG will be is the place where IT firms can advertise their vacancies, and also a showcase for universities, technical colleges, institutions of continuing education, seminar organizers, personnel providers (both regionally and worldwide), the media (TV and print) as well as public sponsors.
enac europe (Hall 11)
In 2003 the special presentation "enac europe" will relocate from the adjacent pavilions to Hall 11 proper. Under the heading "Users Advise Users" this special presentation offers solutions for national and municipal government and the business community.
The IT applications on display concentrate primarily on e-government, public communication and participation, education and skill training, the economy and employment, health and social services, the environment and mobility, and security and public order. An added feature is the "enacforum", where representatives from government, administration, business and science will discuss all the latest issues relating to e-government solutions.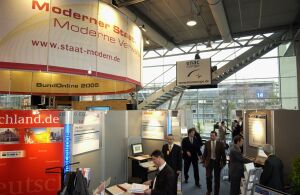 Network Information Center (Hall 15)
The "Network Information Center (NIC)" in Hall 15 is a manufacturer-independent arena for all the latest information about new networking developments and applications. Key themes will be service convergence, VoIP, IN-IP integration, network security, wireless technology and high-speed networking. The centerpiece of the NIC will be a special lecture and discussion forum, where specialists will appear several times daily to inform the visiting public about all the latest trends in the networking sector.
CefIS – Center for Information Security (Hall 17)
The joint presentation "CefIS – Center for Information Security" in Hall 17 showcases the products, software and services ensuring the technical, physical, logical and organisational security of ICT installations. The topics include structural design, power supplies, fireproofing, intruder prevention, integrated systems management and monitoring, plus access control.
"Bank-Finanz-Systeme" (Hall 18)
This special display in Hall 18 (which is taking place for the 25th time in 2003) showcases solutions for banks and financial service providers. Consisting of an exhibition, a discussion forum and an informal meeting place ("Bankertreff") Bank-Finanz-Systeme provides a detailed insight into all the key current issues. Guided tours, lectures and special workshops will provide additional information geared to specific needs.
Planet Reseller (Hall 25)
"Planet Reseller" will be the central port of call for distributors, systems houses, retailing cooperatives and manufacturers. The inner zone of "Planet" Reseller" will be restricted exclusively to professional visitors with corresponding accreditation.
Filipe Samora
2003-02-07
Em Foco – Projecto