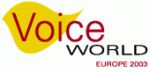 After many years of indifference, the European voice market finally saw real customers making real investments in the last year. Major enterprises, such as British Airways, Thomas Cook, Lloyds TSB, Deutsche Bahn, Nationwide Building Society or Credit Lyonnais have now betted heavily in voice applications. Voice World Europe 2003, to run from 2-3 April at Olympia Conference Centre, London, will assess the main trends of this market.

Here some of the programme's highlights:
Day one: Wednesday 2 April
09.10 – Nick Applegarth, Managing Director EMEA, Nuance – "Voice pays for itself – the worlds best kept secret":
· Assessing the current speech climate in Europe
· Speech adoption levels: why has it not been as widely implemented as it should?
· Existing deployments: how the technology works
· Gaining true benefits in a dynamic marketplace
· Where should the market be going?
· The evolution path to the voice dial tone
09.55 – Dan Hawkins, Managing Analyst, Datamonitor – Identifying the new opportunities in the European speech recognition market
· Why Europe is now the hottest new voice market
· The significance of the world's technology heavyweights investing in voice technologies and the meaning of emerging standards
· Hosting voice applications – the advantages of outsourcing your voice applications
· Future trends in the European voice market
11.20– Rick Tabor, Vice President, Call Centre Technology, Citibank Europe – Case study: key success strategies for your speech recognition implementation

· Identifying key opportunities in your current call centre solutions
· Creating a new verbal experience which customers will buy into
· Taking the challenge of change forward
· Matching speech technology to what your customer and business wants
17.20– Matias Musmacher, Manager Systems and Technology, Deutsche Bahn Case study: gaining customer acceptance of automated contact centres and monitoring feedback

· The role of voice in the contact centre
· How have IVR solutions evolved?
· Reducing hang-ups and shortening call lengths
· Creating a win-win situation through happier callers and agents
· Information gathering and data collection advantages
· Listening to your customers voice: complaints and monitoring contact
Day Two: Thursday 3 April 2003

09.50 – Jerome Thomas, Voice Portal Solutions Director, Unisys Voice controlled messaging: imagine that you could speak to your voice mail – its done

· Building cost-efficient solutions that combines: the flexibility of VoiceXML to manipulate complex dialogs.
· Benefiting from multi-applications voice portal architecture to deploy massively voice-driven services
11.30 – Rosanna Duce, Vice President, Loquendo – The key technological factors behind the ultimate speech-enabled services

· Giving users text-to-speech voices they ll enjoy listening to
· Ensuring all users are understood with automatic speech recognition
· Choosing platform solutions
· Case studies from the field
12.10– Duncan Ross, Voice Systems Manager, EMEA IBM – Is voice access a telephony or an IT issue?

· Delivering call centre ROI now, laying firm foundations for the future
· Building in long-term flexibility for the business without ROI impact
· The importance of flexible architecture to our business
16.10 – David Duffett, Head of Learning and Development, Aculab – Speaker verification is here – take my word for it!

· What was science fiction is now science fact
· Speaker verification and identification (SVI) is now a practical proposition for telephony applications
· Advances in speaker verification technology
· How SVI has been successfully deployed in commercial applications
· What are the criteria by which an SVI package should be selected?
17.10– Panel Discussion: what will standardisation mean for the development of the voice industry?

· Assessing the impact of standardisation efforts on the bottom line
· The role of respective forums in voice standards: VoiceXML, SALT, and W3C
· The role of reference implementations for disseminating standards
· Will standards help enterprises to safeguard against non-scaleable voice solutions?
· What role will the technology heavyweights play in the standards process?
2003-03-19
http://www.voice-world.com/Index.asp?&T1=19/3/2003&T1=19/3/2003
Eventos – Conferências
Em Foco – Empresa