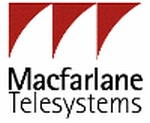 As part of its ongoing commitment to e-Government and providing the best customer-focussed services, Dover District Council has been bringing benefits to thousands of people with state-of-the-art technology and the Benefits and Council Tax Helpline.

Secured with e-Government funding, the Macfarlane Telesystems CallPlus system has been successfully piloted in the Revenue and Benefits Division, with a view to possible wider application in other frontline Council services in the future.
More than 11,000 people have called the Helpline since the new service began in June. The improvements in call-handling have already achieved a 92% successful answer rate, meeting Government standards for call waiting times, with 67% of answered calls connected to an agent within the first 30 seconds, and 96% of answered calls connected within 5 minutes.
The new system, with a focus on improved customer service, allows enquiries to be queued effectively at peak times. It provides callers with advice and information on their queue status, and is able to prioritise types of call. With a range of real-time and historic reporting, the service can also be monitored to ensure callers get the right advice with the minimum of delay.
Councillor Paul Watkins, Leader of Dover District Council, said: "We are delighted at the success of this technology. This exciting development is another contribution to our efforts to focus on customers and make our services more efficient and responsive".
2004-10-14
Notícias – Press-Releases