The hosted contact center or contact center on demand (CCOD) market has risen from relative obscurity to front page news in the past couple of months. This market's profile increased substantially when Alcatel, Avaya and TeleTech, two leading contact center infrastructure providers and a very large outsourcer, announced new offerings in Q4 2004. This burst of activity has also helped to bring instant credibility to a market that both deserves and needs respect.

Hosted contact center offerings have been around for approximately 20 years, starting with Centrex, which was a hosted PBX that included a quasi-call center service offered by the phone company. The difference now is that users can rent a complete, high quality, feature-rich contact center solution. And users can be in production within hours of signing up for the new service.
The CCOD market has been built quietly by mostly low profile companies during the past 9-plus years, providers such as CosmoCom, [email protected] and Contactual (previously known as White Pajama). The recent entrance of high profile companies, in addition to CISCO , which has been a player in this market for a few years, will increase the visibility of this developing market and speed up product adoption.
Contact center hosting is a viable and cost effective option for companies of all sizes and is expected to be of particular interest to small and mid-size companies that do not have the resources or knowledge to build and manage a premise-based solution. The larger vendors have entered the CCOD market to capture their share of small and midsize contact centers and to protect themselves from losing business to the emerging hosted technology providers. It's expected that CCOD market will begin to challenge premise-based offerings by the middle of 2007.
Hosted Contact Center Value Proposition
Enterprises of all sizes – small, medium and large – in the public, private and educational sectors around the world, can benefit from contact center technology. Whether a company has 10 or 10,000 sales/service/collections staff answering calls, they will be more productive and their customers better served and more satisfied if their incoming transactions (calls, emails, chat session and faxes) are managed by a call or contact center. (Contact centers, at their most basic, apply queuing theory to deliver calls on a first come, first served basis to ensure that all transactions are handled as quickly as possible.)
Huge Opportunities for Small and Mid-sized Organizations – The vast majority of small and mid-size organizations, whether within a larger corporation or stand-alone businesses, do not use an automatic call distributor (ACD). Even if they have the money to pay for one, most do not have the internal resources to install and manage it. Small and mid-size firms, such as doctor's offices, shipping companies, law firms, manufacturing companies, security businesses, universities, branch offices, small operating departments, etc. have recognized that an ACD isn't cost effective and they can't afford or support a first class multi-channel contact center offering with a universal queue, computer telephony integration (CTI for screen pops), advanced call routing, outbound dialing, liability recording, email, chat, agent scripting, customer service tracking and reporting.
Hosted offerings are shifting the dynamics of the contact center market. CCOD offerings, generally available through network service providers (NSPs) and now also through outsourcers, allow end-user organizations to rent feature-rich contact center solutions in environments where premise-based products didn't make sense.
CCOD offerings will benefit end-user organizations with viable contact center alternatives as well as vendors that are now better positioned to penetrate the small and mid-size segments of this market. It isn't worthwhile financially for a premise-based infrastructure provider to install a feature-rich small or mid-size contact center solution; these vendors generally charge per-seat license fees, so they make substantially more on a project with more seats. However, as the small and mid-size segments of the contact center market are the fastest growing, infrastructure providers are looking for opportunities to deliver services to them cost effectively. CCOD addresses this need.
Great Opportunities for Multi-Site Operations, Branch Offices and Remote Agents – Lots of companies have branch offices, decentralized operations or remote agents where a dedicated contact center is not cost effective. This often means the exclusion of isolated or dispersed offices from contact center groups, resulting in decreased productivity, efficiency and customer satisfaction. Hosted contact center solutions make it easy to include one or more offices in a contact center grouping. CCOD solutions allow companies to treat offices of all sizes as part of a centralized contact center organization, regardless of where they are located. (Internet Protocol (IP) technology is the primary enabler for multi-site contact center environments and is used extensively by CCOD vendors.)
Hosted Contact Center Market Overview
The hosted contact center market is expanding. The market currently consists of three vendor categories:

1. Product Companies that developed their own technology, including stand-alone CCOD vendors and infrastructure providers that also sell premise-based solutions.
2. Service Delivery Companies that purchase hosted contact center offerings and sell them to their clients.
3. Service Delivery/Technology companies. These companies develop their own technology and sell it as a service to user organizations.
CCOD Market Summary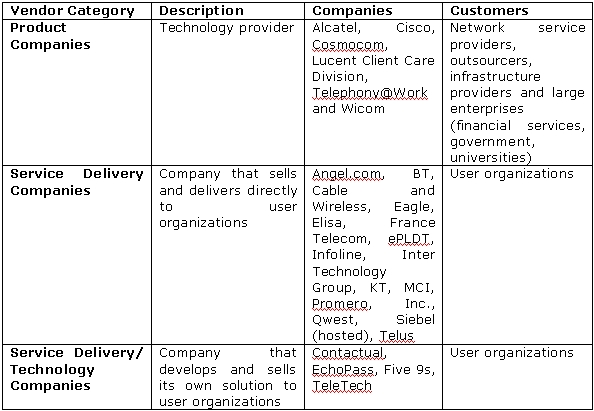 Note: This is a partial list.
This market is rapidly expanding and evolving. Expect to see many new service offerings and technology providers enter the market in the next 18 months. Also, expect to see increased competition among the existing players as they compete for new clients.
Bottom Line
Hosted contact centers offerings are not new; what is new is that many of these solutions are as feature-rich as products from the leading premise-based contact center infrastructure providers. As of Q4 2004, hosted solutions are now being offered by leading contact center infrastructure providers, in addition to less well-known "start-ups." The CCOD market is past its infancy and is starting to mature. Prospects of all sizes in countries around the world have high-end, viable alternatives to installing a premise-based contact center offering.
All CCOD solutions are not alike, nor is the support being provided by either the NSPs or outsourcers. Yes, one benefit of using a CCOD offering is the ease of starting and stopping the service, but the reality is that end users are not going to want to change their service providers frequently and therefore must undertake a selection process that is as thorough as if they were going to install the product on site. End users looking for a hosted contact center offering must choose a network service provider from which to provision the offering and receive ongoing support. While it complicates the business model, end users also need to pay attention to the underlying technology (contact center infrastructure) to be sure that they can get all of the capabilities that they need today and for the next couple of years.
Donna Fluss
Donna Fluss is the Principal of DMG Consulting LLC, delivering customer-focused business strategy, operations and technology for Global 2000 and emerging companies. Ms. Fluss, a recognized leader and contact center visionary, is a highly sought-after writer and speaker. She is the author of the industry-leading annual Quality Management/Liability Recording Product and Market Report and Guide to Successful Contact Center Offshore Outsourcing. Contact Ms. Fluss at [email protected]
2005-01-04
Em Foco – Opinião