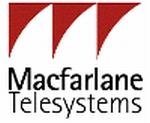 Salisbury District Council has created a virtual contact centre based on Macfarlane CallPlus contact centre technology and Lagan Front Line CRM software as part of a broad initiative to restructure resources and improve service – with a particular focus on better serving citizens in rural areas.

The virtual contact centre, which went live in the first week of February, serves a dedicated team of Customer Service Officers (CSOs)based out of five local council offices: three in Salisbury, and rural offices in Amesbury and Mere. The team was set up in October 2004, and today handles a range of customer service requests relating to benefits, council tax, parking, tourism, environmental services and transportation.
The virtual contact centre will provide a highly cost-effective means of managing the Customer Service team as a single entity across the entire district. Prior to the installation of the Macfarlane CallPlus system, CSOs within certain council offices were sometimes overloaded with calls while those in other offices were quiet. Now – and with training that has ensured that the skill sets of CSOs in rural areas are on a par with those of their colleagues in the Council's
Salisbury office – the Macfarlane technology is able to even up call loads across the entire district.
The technology will give rural CSOs access to the same technical resources and CRM information to resolve customer queries as their counterparts in the Salisbury offices. The next stage of development will enable CSOs to identify who is calling (using Calling Line Identification technology), along with relevant data such as contact details, property data and history of previous contacts. Previously, it wouldn't have been cost-effective to provide this sophisticated service to the Council's two rural offices as each has a maximum of two CSOs working at any one time.
Citizens can interact with CSOs via four access channels – face-to-face, telephone, Web and email. Although face-to-face and telephone contacts make up the vast majority of contacts today, the Council is involved in a number of customer contact schemes today to encourage greater web and email usage.
22 people currently work within the Salisbury Customer Services team – 18 of whom are citizen-facing Customer Service Officers. This number is projected to grow to around 26-30 people by 2008.
'Our situation is very typical of councils that serve both urban and rural areas' said Jo Mundy Customer Services Manager at Salisbury Council. 'We're not cash rich – which means we have to find not only practical but also cost-effective ways of providing service to citizens across the district. We quickly identified the needs of our rural customers and have undertaken several initiatives to improve service' .
As well as setting up the virtual contact centre, we also send out CSOs – equipped with mobile phone technology and laptops – to run customer service 'clinics' in three of our remotest villages once a week. We will be looking to further enhance services over time.'
The role of technology in bringing about service transformation was also recognised at an early stage – and extensive work is ongoing to integrate the Council's back office systems including its council tax and housing benefits systems, document imaging systems, knowledge systems, and its CRM systems.
When it comes to customer service, Helen Frances, Head of Customer Service at Salisbury Council states 'it's our aim to resolve 80% of customer queries at first point of contact and technology has a clear role to play in achieving this. The opportunity to develop an integrated CSO front end for contact management and telephony was a really strong driver in our decision to invest in the Macfarlane and Lagan technology.
The virtual contact centre will also help us move over time to location independent working. There is no reason, for example, why CSOs in the future couldn't work from home.'
'The work being carried out in Salisbury is a blueprint for many small local councils looking to improve services across a wide geographical area' said Paul Skinner, Sales Director of Macfarlane Telesystems. 'We're extremely proud to be working with Salisbury District Council and with Lagan Technologies on this exciting project.'
2006-02-14
Em Foco – Empresa