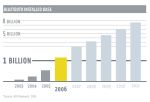 Bluetooth enabled products are now in the hands of one billion consumers worldwide said the Bluetooth Special Interest Group (SIG) today. Citing shipment information from ABI Research , the trade association announced that the installed base of Bluetooth devices reached one billion in early November. Weekly shipments of the wireless devices continue at a pace of 12 million per week.
"To put this number in perspective, one billion is greater than the number of PC users in the world and equal to the number of mobile phones shipped this year," said Michael Foley, Ph.D., executive director, Bluetooth SIG. "Reaching the one billion milestone is a huge win for the Bluetooth industry and we want to congratulate and thank our 6,000 member companies whose innovation and products got us here. These are the same companies, along with new members, that will drive us towards our next goal of shipping two billion devices IN ONE YEAR in 2010. Exciting things are shaping up for Bluetooth wireless technology and with the advent of several new uses of the technology in 2007 in the home entertainment, medical and gaming arenas, I feel confident that Bluetooth technology will continue to surpass expectations."

Cellular handsets continue to dominate shipment numbers, along with audio headsets. Stereo headsets, vehicles, media players, notebooks/PCs, and mice/keyboard devices also contribute to shipment numbers. Medical devices, gaming devices, camcorders, projectors and digital cameras are expected to grow in volume after the introduction of the high-speed Bluetooth specification in 2007.
"One change in the marketplace we see really driving adoption of Bluetooth stereo headsets and contributing to that next billion devices is the growth of mobile TV," said Yoram Solomon, director of strategic marketing and industry relations, Texas Instruments, and president of the Mobile DTV Alliance. "It's pretty simple – people want good quality sound when watching TV and the speaker built into mobile phones isn't going to cut it. Bluetooth stereo headsets provide the key quality component to the mobile TV experience."
"The Bluetooth market has grown dramatically in 2006," said Stuart Carlaw, ABI Research. "Despite projections of a slight downturn in the cellular handset market this quarter, Bluetooth shipments will continue to grow at a strong pace with increased demand for the feature in mobile phones, headsets, stereo audio headphones and automobiles, among others. Also, the roadmap set in place by the Bluetooth SIG will enable new, higher bandwidth applications that will fuel the accelerated growth pattern for Bluetooth technology."

Em Foco – Produto