META Group announced findings showing that 80 per cent of businesspeople surveyed believe e-mail to be more valuable than the phone for business communication. The startling findings are the result of a recent META Group survey designed to identify the preferred method of business communication. Findings also revealed that 74 per cent of respondents believe being without e-mail would present more of a hardship than being without phone service.
The top three reasons cited by respondents who preferred e-mail over the phone were that e-mail facilitates communication with multiple parties, enables more rapid communication and generates a written record of the interaction.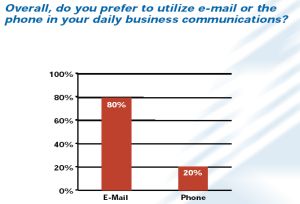 "These findings reveal a major tipping point in the evolution of communications," said Matt Cain, META Group senior vice presiden t and an expert on e-mail and collaboration strategies. "While we had suspected that e-mail was becoming more popular than the phone, we were surprised by the magnitude of the ratio of those choosing e-mail over the phone. Clearly, e-mail best suits a changing business climate characterized by geographically distributed workgroups, extreme mobility, the need for rapid information dissemination, and a desire for reusable business records."
For organisations, these findings underscore a critical need to bring phone-like reliability and stability to the e-mail environment. However, according to Cain , e-mail presents many challenges not faced by telephone communications.
"Users are struggling to keep up with rising tide of message volume, with some users receiving over 200 messages per day and spending several hours daily managing their inbox. Clearly, something has to give," said Cain . "Vendors must develop tools to help streamline inbox management, and users need to be more adept at handling large amounts of messages."
According to META Group , e-mail systems are also faced with the scourge of spam, circulation of salacious content, destructive viruses, and system failures as well as newer, malicious attacks such as denial of service and mail bombs.
META Group believes the creation of safe, secure, and stable mail systems will be a major IT imperative for organizations throughout the decade, requiring significant increases in labour and financial resources.
Cain suggested that the respondents' preference for retaining written records of their e-mail interactions also creates challenges for organisations. These stored messages frequently run afoul of corporate legal guidance, which often advises the rapid destruction of messages.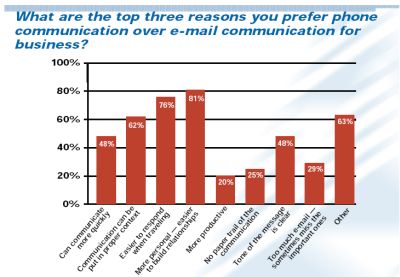 The survey findings highlight the inherent tension between management, which worries about stored messages, and users, for whom stored messages are a virtue. According to META Group , most organisations will need to formalise and implement comprehensive records management programmes to address this conflict.
The survey also indirectly pointed out some of the shortcomings of e-mail. The top three reasons why respondents choose the phone over e-mail are that the phone is more personal, it creates better context for communication, and it helps clarify the tone of messages. These findings suggest that e-mail is sometimes seen as impersonal and prone to misunderstanding, because verbal cues and context are missing.
The survey findings underscore the rapidly changing nature of business communications. Other relevant changes include:
E-mail and other communication options are fast replacing faxing for document delivery — research shows that the number of faxed pages has dropped 50% during the last five years.

Voice over Internet Protocol (VoIP), a technology used for transmitting telephone calls over shared IP networks such as the internet, is now viewed as a credible alternative to traditional telephone infrastructures in certain situations.
Instant messaging is on the fast track, with over 90 per cent of Global 2000 knowledge workers expected to have the service by 2007.

Filipe Samora
2003-04-29

Em Foco – Pessoa