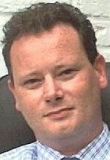 The IP contact centre market in UK will grow from around 8,000 agent positions in 2003 to over 200,000 agent positions by 2007. The majority of this growth will come after 2005, when the mass market will be influenced by the large number of blue-chip reference sites and demonstrable ROI and innovative applications coming from the IP revolution. Although greenfield sites will account for over 20% of the IP market in 2003, this will shrink to only 4% by 2007. Brownfield hybrid IP sites will make up the bulk of growth for the next 3 years, with brownfield pure IP sites coming to the fore in 2006 and beyond, as the effects of the switch technology refresh cycle comes into play.
The IP contact centre market in the UK is a slow-burner, still in the market education stage. With penetration rates running at around 3-4% of sites and around 1% of agent positions, it is the 'early adopter' purchaser group who are moving forward with IP implementations.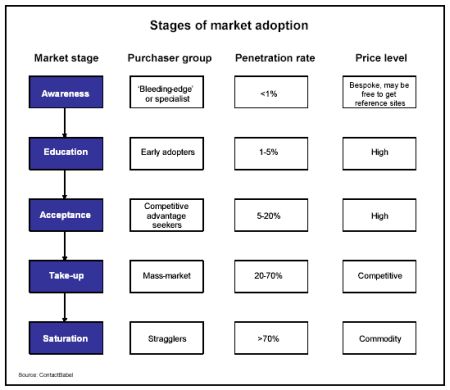 Early adopters will pay a premium for new technologies which have already been proven in bleeding-edge sites (or where the fit of the solution's benefits is so close to what a specific business needs that it will take a substantial risk and implement it – the 'specialist' purchaser group).
Survey findings
A primary research programme which interviewed 114 senior UK contact centre influencers and budgetholders in leading-edge contact centres reveals that:
· 24% of respondents have either implemented IP or are running a pilot scheme
· 15% believe that they will implement at least some IP functionality within the next two years
· 29% are researching IP
· 32% have either not considered IP or have rejected it for the foreseeable future
Of those which are running some form of IP contact centre solution, over 50% of them were swayed into purchase by demonstrable proof of return on investment. 44% were heavily influenced by the greater ease and flexibility that IP solutions promise when dealing with multimedia interactions.
Vendor tactics and strategies
IP contact centres have been offered since the 1990s: the low take-up has been generally caused by two main factors:
· Concern about resilience and reliability
· A lack of understanding and conviction that IP contact centre solutions are worth the money.
The real advantages to IP solutions are the increase in contact centre functionality and flexibility, and repositioning for the future that it brings. IP is an enabler, and as such, is more complex for businesses to understand (especially those where finance departments hold the development budget) than a cost-cutting point solution where ROI is easier to quantify over the short-term.
In the long run, IP contact centre solutions will almost certainly become the technology enabler of choice, but suppliers will want to move the process along more quickly, rather than waiting for switches to fall apart through age before being able to pitch for the business.
Therefore, vendors should concentrate their efforts on these specific areas in order to move the industry towards a mass-market take-up as soon as possible:
· Develop reference sites.
· Develop a working ROI model.
· Educate influencers and budget-holders on the more strategic future aspects and possibilities of contact centres.
· Focus for now upon niche areas, which are more likely to take up IP.
· Understand and develop the needs of the small-medium market, especially sub-50 seats.
· Create and disseminate a holistic and intelligible view of the long-term contact centre future, and provide a migration path to it.
· Efforts over the next two years should be more concerned with building a credible market rather than maximising short-term revenue and profit.
ContactBabel expects the IP contact centre market to reach "acceptance" stage in the middle of 2004, and "take-up" from the beginning of 2006 onwards. IP contact centre solution revenues will grow from £9.4m in 2003 to over £100m in 2007.
The sub-50 agent position sector of the market will make up a very considerable portion of this overall market, a position which the low-end of the market has rarely been in before, which throws up a lot of questions for solution providers, many of whom have never successfully broken into this end of the industry.
Steve Morrell
[email protected]
2003-06-30
Em Foco – Opinião