Despite retaining a clear lead in terms of market share, Nokia lost ground to both Siemens and Sony Ericsson in a Western European mobile phone market that overall remained flat year on year. As expected, IDC's European Mobile Phone Tracker research found price cuts on low-end prepay phones and integrated camera and colour-enabled phones stimulated renewals rather than first-time subscribers. As a percentage of the total market, Bluetooth-enabled handsets remained constant at 18 per cent, while phones with an integrated camera increased from 11 per cent to 14 per cent. Fifty per cent of the handsets shipped in 3Q03 had a colour screen.
Siemens made impressive gains in the low-end prepay market with aggressive subsidies on its A55 handsets, whereas impressive T610 sales for Sony Ericsson on both prepay and postpay contracts, backed by extensive advertising campaigns, helped to drive sales. Nokia will rely on 4Q03 and 1Q04 for the majority of its new handset introductions, including its new 6600 smart phone.
According to IDC, the final quarter of 2003 will see an high-end handset battle develop between the Symbian-based smart phones of Sony Ericsson's P900, Nokia's 6600, and Siemens' SX1 as the vendors compete for the Christmas renewal market. "These vendors will see healthy support from major operators, whose greatest opportunity to increase average revenue per user is through the richer features offered by smart phones," said Matthew Dunn,
research analyst for European mobile devices at IDC.
"Vendor differentiation will become increasingly important in a commoditised market, emphasized by Nokia's first fabric-coated clamshell 7200 phone, expected to appear in early 2004, and Sony Ericsson's Z200," said Andrew Brown, programme manager for European mobile devices at IDC. " The entry of LG into the European mobile phone market could also become a threat to major incumbent vendors."
Vendor Highlights
Nokia kept its share at over 50 per cent of the market, assisted by the continued demand for higher-end mobile phones and replacements. However, according to IDC , its market share was eroded more than 4 per cent by its two nearest rivals in comparison with the same period in 2002.
Nokia's converged device sales rose by more than 1 per cent to over half a million units this quarter. Its new offering – the gaming phone N-Gage – should be interesting to watch in the coming quarter.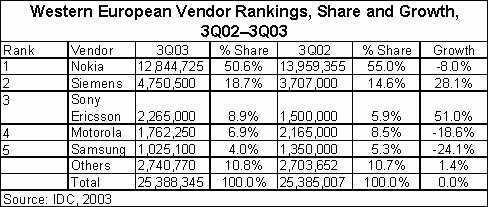 Sequentially, Siemens exhibited the largest share gain, with over 5 per cent captured. This helped to maintain a strong second position. The German handset vendor released a number of new models across its product range, with the Siemens A models (low-end, voice-centric, mono screen) performing particularly well in the prepaid market.
Siemens' efforts to encourage multiple phone ownership through the Xelibri fashion range proved less successful. Despite lower-than-expected shipments, Siemens will continue with the Xelibri brand by adding new models to the portfolio, introducing a new advertising campaign, and launching the range in traditional mobile phone channels.
Sony Ericsson achieved the only other positive share change among the top 5 vendors. In comparison to its weak performance this time last year it showed an improvement of 51 per cent. This was in part due to the strong advertising of its new range of handsets. A plentiful supply of T610 (colour/Bluetooth/camera/MMS enabled) phones to channel partners stimulated a number of renewals. According to IDC, Sony Ericsson should also experience a strong end-of-year, with the P900 smart phone and forthcoming Z600.
Motorola experienced a weak performance in Western Europe compared to worldwide. The majority of Motorola 's newer models have already been available on the market for a number of quarters. Samsung maintained its market share sequentially, as Europeans grow more accustomed to the clamshell form factor. The Korea-based vendor is also increasing mindshare across European end users, and as a supplier among European mobile network operators.
2003-12-09

Em Foco – Empresa